TUESDAY TICKET SPECIAL!!! $5 ADMISSIONS
Now playing at the KTP:
Toy Story 4 - Rated G
Friday - Thursday, August 16th - 22nd @ 4:00pm and 6:30
Friday - Thursday, August 23rd - 29th @ 4:00pm
Woody, Buzz Lightyear and the rest of the gang embark on a road trip with Bonnie and a new toy named Forky. The adventurous journey turns into an unexpected reunion as Woody's slight detour leads him to his long-lost friend Bo Peep. As Woody and Bo discuss the old days, they soon start to realize th

at they're worlds apart when it comes to what they want from life as a toy.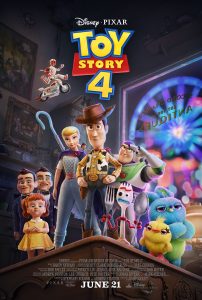 We look forward to seeing you
all here.
Tickets are $8!
Upcoming Shows:
Once Upon a Time in Hollywood - Rated R
Friday - Thursday, August 23rd - 29th @ 6:30pm
Quentin Tarantino's Once Upon a Time... in Hollywood visits 1969 Los Angeles, where everything is changing, as TV star Rick Dalton (Leonardo DiCaprio) and his longtime stunt double Cliff Booth (Brad Pitt) make their way around an industry they hardly recognize anymore. The ninth film from the writ

er-director features a large ensemble cast and multiple storylines in a tribute to the final moments of Hollywood's golden age.